BSOD errors are quite common on Windows 10. Once you're a victim your device crash or broke mysteriously and shows you a blue screen. It can prevent you from using your device further until you reboot.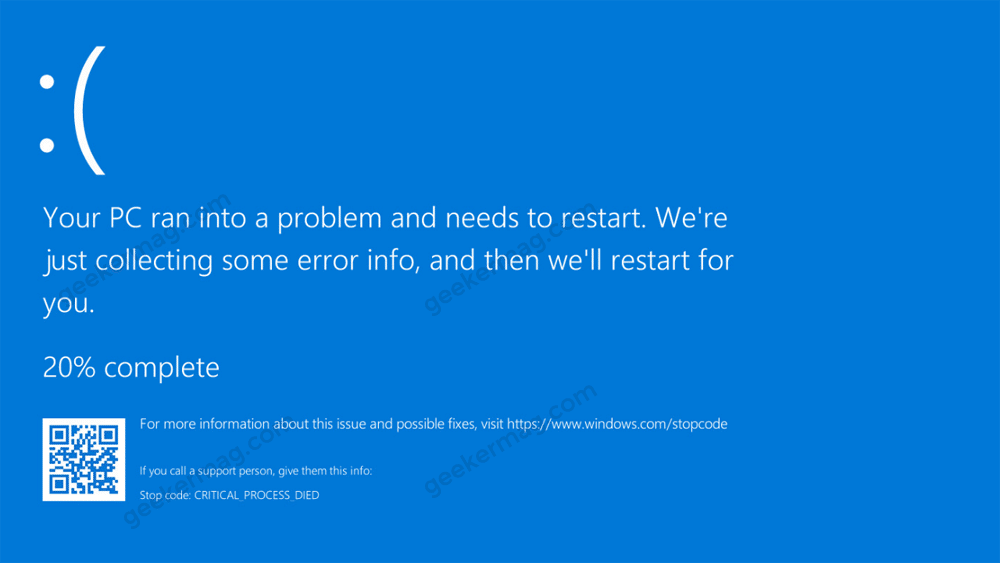 These BSOD errors have different stop codes, and this blog post is about one of them i.e. Critical process died.
Critical process died in Windows 10 is a common error that you may face. The primary cause behind this BSOD error appears when the background process on which Windows OS relies gets corrupt, data is modified incorrectly or it stopped completely.
Fix Critical Process Died BSOD Error in Windows 10.
However, finding a real cause behind such BSOD errors is difficult and due to this reason fixing them is a tough job to do, but not impossible.
On the basis of various users' feedback, we manage to cover some possible solutions that help them in fixing the Critical process died BSOD in Windows 10. So if you're affected, we highly suggest you try these solutions
If you are reading this article then you are probably searching for a way to fix this error. Let's discuss some troubleshooting steps to
Restart your computer
Most probably, after you restart your PC you will be able to use it normally even after the error occurs. However, if the error keeps appearing even after rebooting your device, then skip this solution, and move on to the next step
If you're able to use your device, then follow the troubleshooting methods suggested in upcoming lines directly
In case, you're unable to use your device, then boot your device into safe mode from the login screen.
For that, on the Windows 10 login screen, press and hold the SHIFT key and then click Power > Restart.
After restart, choose following options from Choose an option screen: Troubleshoot > Advanced options > Startup Settings > Restart.
Next, you will see a screen with various options, choose 4 or F4 to boot your PC in Safe mode.
Once you're in safe mode, follow the steps discussed below in the post.
Run Hardware And Device Troubleshooter
Troubleshooter is a feature in Windows PC that helps detect any issue on your system and also fixes it. If you are facing a critical process died error in Windows 10, then you should try running hardware and device troubleshooter.
However, this troubleshooting is not available in the troubleshooter settings, but you can access it by entering a simple command in the command prompt.
Open the Command Prompt on your PC, and type msdt.exe -id DeviceDiagnostic and hit Enter. This will open Hardware and devices troubleshooter.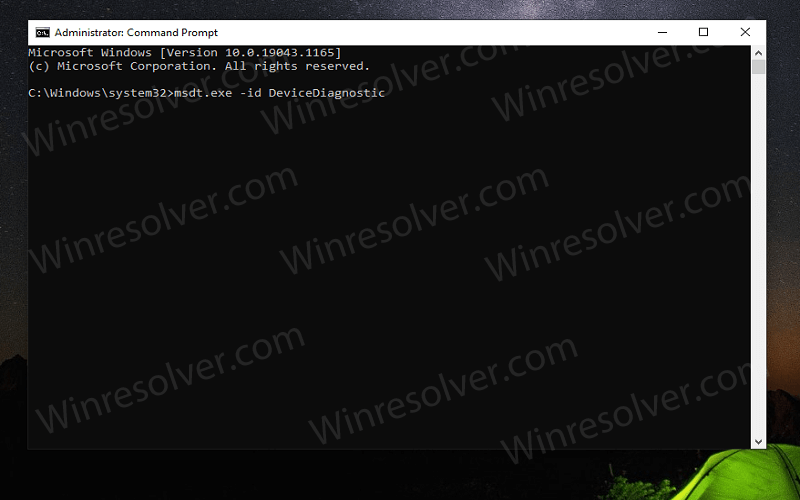 Click on Next, and then follow the on-screen instructions to fix the issue.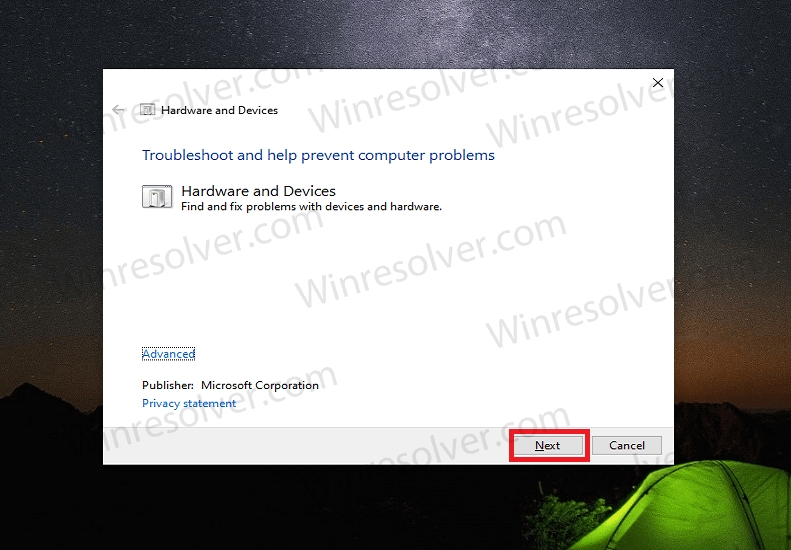 Run SFC And DISM Scan
The very next thing that you can do is performing an SFC and DISM scan. SFC stands for System File Checker. This tool helps fix all the problems that are caused due to corrupted files. DISM stands for Deployment Imaging and Service Management. This tool repairs corrupt system images to bring your PC back to the working stage.
To run an SFC scan, follow the steps given below-
Firstly, you will have to run Command Prompt as administrator. To do so, search for Command Prompt in the Search bar/Start menu. Right-click on Command Prompt, and then click on Run As Administrator.
In the Command Prompt, type the command sfc /scannow and hit Enter. This will now scan your PC for all the errors and fix them. Wait for the process to complete, and then restart your PC, and the issue should be fixed.
To run the DISM scan, run the Command Prompt as administrator as you did above. In the Command Prompt type the command DISM /Online /Cleanup-Image /RestoreHealth and hit Enter.
Wait for the process to complete, and then close the Command Prompt and restart your PC. You should now no longer face the same issue.
Uninstall Recent Windows Updates
Many users have reported that they started facing this issue due to the recent Windows update they installed. If you also faced this problem after you installed an update recently, then you should most probably uninstall the recently installed update.
To uninstall the recently installed Windows update, head to the Settings app on your PC. You can open up the Settings app by pressing the Windows + I key combo.
In the Settings, head to the Update & security, and then click on Windows update.
Now click on Update History and select Uninstall Updates.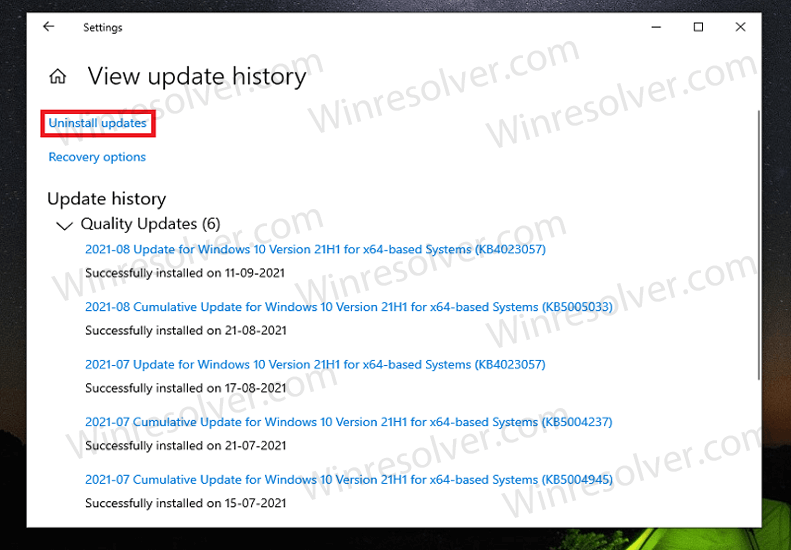 Here you will see all the recent updates you installed. Select the recently installed update depending on the time, and then click on Uninstall.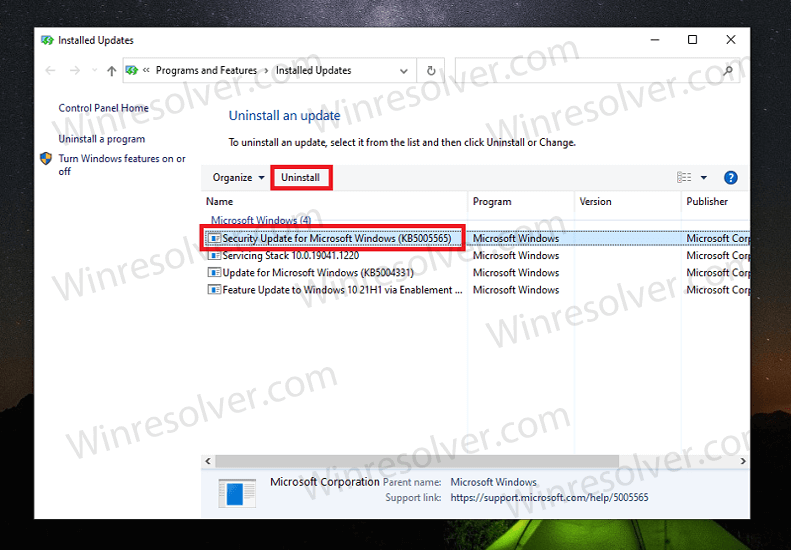 This will uninstall the recent Windows update, and your PC should be back to working now.
Perform A Clean Boot
You can either perform a clean boot to ensure you no longer face the error. When you perform a clean boot, your PC will boot with minimum processes, and programs. To perform a clean boot, follow the steps given below-
Press the Windows key on your keyboard and search for System Configuration. Open the System Configuration app on your PC.
In the System Configuration, head to the Services tab. Here you are recommended to check the Hide all Microsoft Services checkbox and then click on Disable all.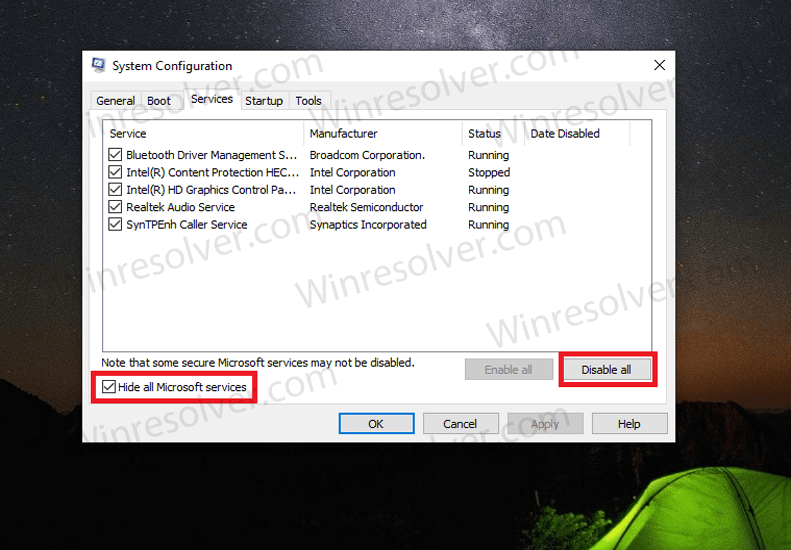 Now head to the Startup tab, and then click on Open Task Manager. You will be headed to the Startup tab in the Task Manager.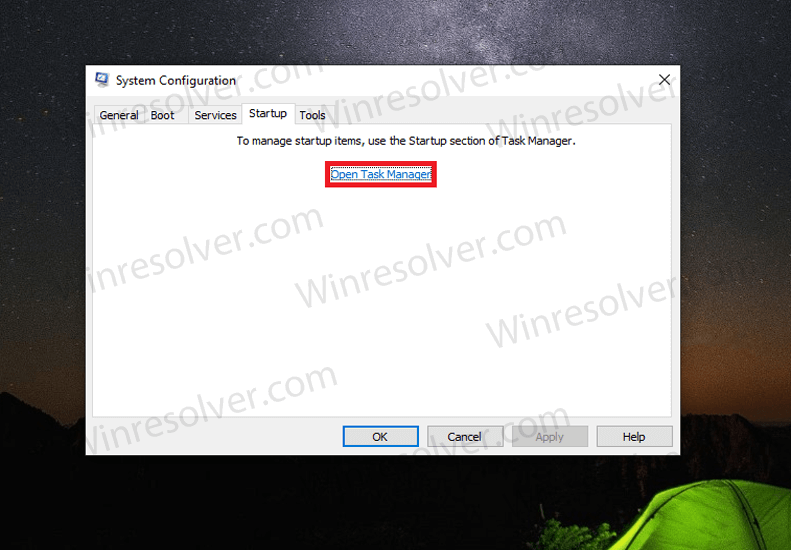 Now select the program with high impact, and click on Disable to disable them. You can do the same for programs with low impact as well. Do this for all the programs individually, and then restart your PC.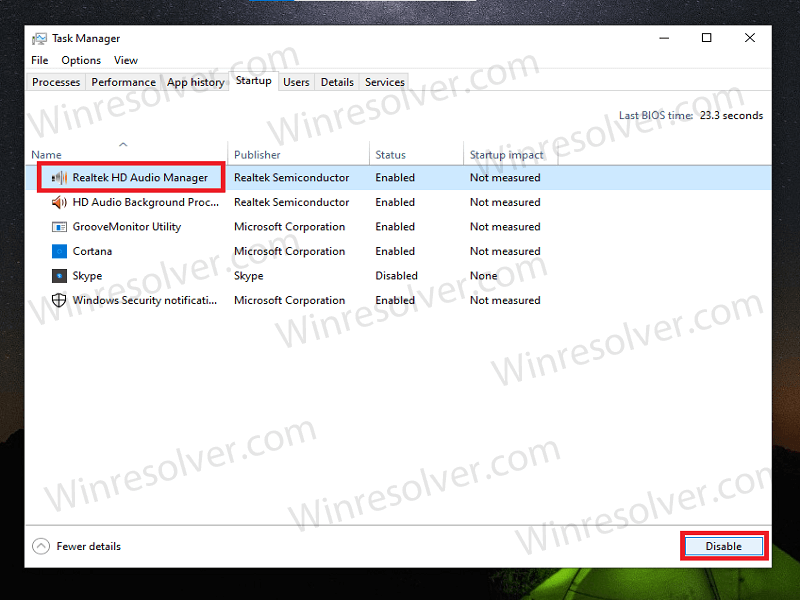 Update Your BIOS
You may face this issue due to outdated BIOS. You should try updating the BIOS of your PC, and then check if you still encounter this error or not. The way to update BIOS can vary depending on your OEM. Many OEMs have their own BIOS updating tool to update the BIOS. You can search the method to update the BIOS on the internet.
Scan Your PC With Antivirus
Critical process died in Windows 10 can also occur due to virus infection on your PC. You should prefer scanning your PC with antivirus for virus infection. Windows Defender does a very good job in scanning your PC for viruses and fixing the damages caused due to them. You can scan your PC using the Windows Defender.
If you are using any third-party antivirus software like Norton, Kaspersky, Quick Heal, or any other, then you can use it to scan your PC for viruses and malware.
Update Drivers
Outdated drivers are also the reason behind this error to occur. You can try updating your drives, and then check if you still encounter the error or not. To update the driver, follow the steps given below-
Open the Device Manager on your PC. In the Device Manager, search for a device with a yellow exclamation mark.
Expand the device with a yellow exclamation mark by double-clicking on it. Now, select the particular device with the yellow exclamation mark. Right-click on it, and then click on Update Driver.
Now follow the on-screen instructions to update the drivers. There are third-party software like DriverPack Solution and Driver Booster which can make your work easy by automatically updating your drivers.
Restore Using A Restore Point
Another solution that you can follow is restoring the system using a restore point that you have created when the system was working fine. Do note that this method will only work if you have created a restore point earlier or if you have turned on automatic restore point creation. If you have not created a restore point, then you can skip this step and move ahead.
In the Start Menu, search for Create A Restore Point and open the application. You will be headed to the System Protection tab in the System Properties.
Now click on the System Restore option. If you have never created a restore point, then the System Restore button will not be highlighted, and you will not be able to click on it.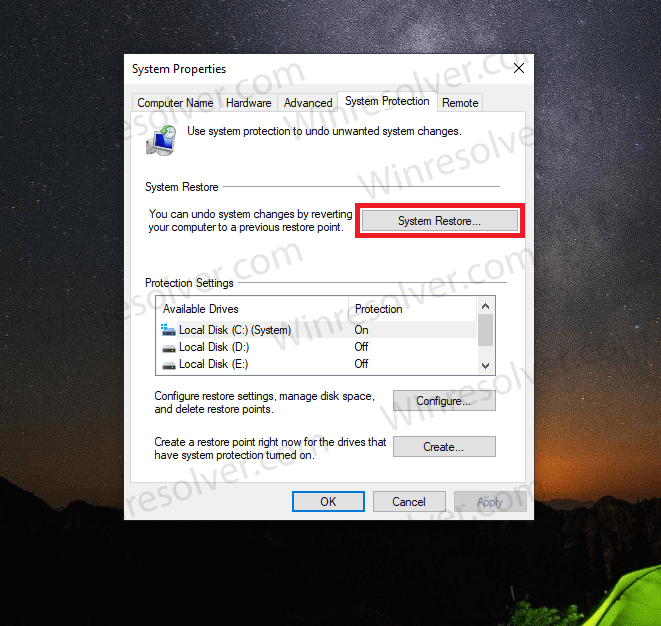 When you click on System Restore, a new window will open up. Click on Next to continue.
Here select the restore point, and then click on Scan for affected programs. This will show you what programs and drivers will be deleted from your PC and what will be reinstalled. Click on Close after you are done seeing the list.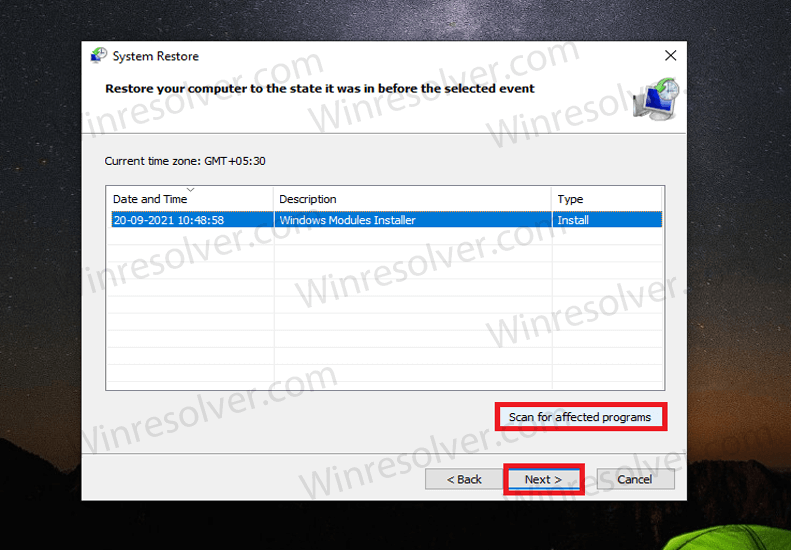 Click on Next and then click on Finish to continue reverting your system to the time when the restore point was created.
Reset PC
If any of the above methods didn't work for you, then the last resort for you will be to reset your PC. Ensure you take a backup of your data before you continue with this step.
To reset your PC, search for Reset This PC in the Start Menu and open it. This will open the Recovery section in the Settings.
Here, click on Get Started under the Reset this PC option.
You will now get two options to select between- Keep my files and Remove Everything. Select Keep my files, and your PC will be reset. This will restore all the settings and remove all the files while your files remained unharmed.
Inplace Upgrade
Another option that you can try is to perform an in-place upgrade of Windows 10. Check out the procedure on how to do that.
If you don't want to reset your PC and in-place upgrade, then the last solution is to reinstall Windows 10. For that:
Plug in the installation media in your PC, restart your PC, and boot into it using the installation media. You will be headed to Windows 10 installation page. Follow the on-screen instructions to clean install Windows 10.
If you are facing a critical process died error in Windows 10, then this guide will help you solve that. Following the above steps, you will be able to solve the BSOD error that you were facing.