Some users report that Windows Defender keeps finding Trojan on their devices and repeatedly warning about the same infection even after taking necessary action.
What actually happens is that when they click on the Trojan threat warning by Windows Defender, it takes them to Protection History. Here, if you click on the Action and then select Remove. It does nothing and keeps showing the warning for a non-existent threat.
So what caused the issue? Actually, there's a bug in Windows Defender due to which it read previous items listed in the Protection History of Windows Defender and as a result warned them repeatedly.
Fix – Windows Defender keeps finding Trojan, But fails to Delete
The Windows Defender bug is very popular among users running Windows 10 v2004 or above. Under this bug, Windows Defender from mistaking legitimate files for trojans (Windows Defender False Positive Trojan). In case, you're also facing the same issue, then here's how you can fix that:
Launch File Explorer and then head over to the following folder: C:\ProgramData\Microsoft\Windows Defender\Scans\History\Service
Here, you will find a folder name DetectionHistory. You need to delete it.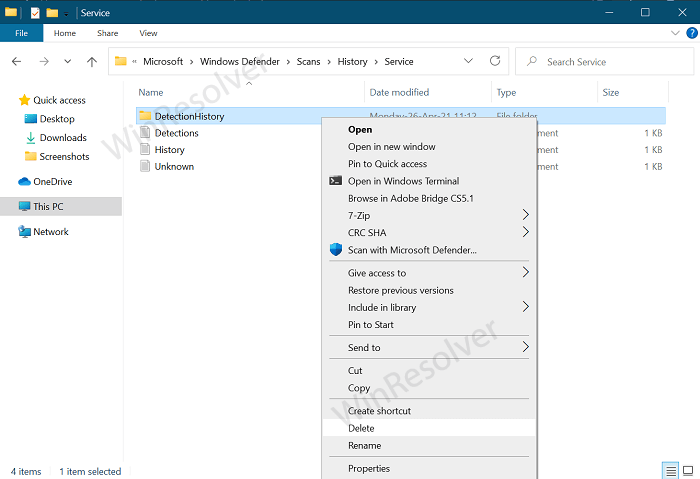 After that, restart your device and perform a quick scan and this time you will no longer find threats. To confirm this thing, you can head over to the Protection History page.
You need to make sure, that if Windows Defender detects a new trojan, then you have to perform the same steps again.
In case, even after following the above workaround Windows Defender keep detecting the Trojan, then it is possible that the threat level is so severe that it fails to remove it. In this situation, try this:
Download Microsoft Safety Scanner and run it. From the options, select Full scan, it will take time depending on data available on your device.
After this operation completes, the tool will provide you with a report of the viruses, spyware and other potentially unwanted software that was detected.
Later, you can take the necessary actions.
In case, the scan is showing file infections, but after the scan completes, the tool suggests no threat found, then we suggest you download Malwarebytes or any other third-party antivirus program and then perform a full scan if it detects anything.
If nothing works, then the last solution we suggest is to perform a clean installation of Windows 10.