Windows Security is a home for a various tool that helps in protecting your Windows 10 device and data from various malicious software and online threats. One tool out of them is Device Security, where you will find out about security that comes built into your device.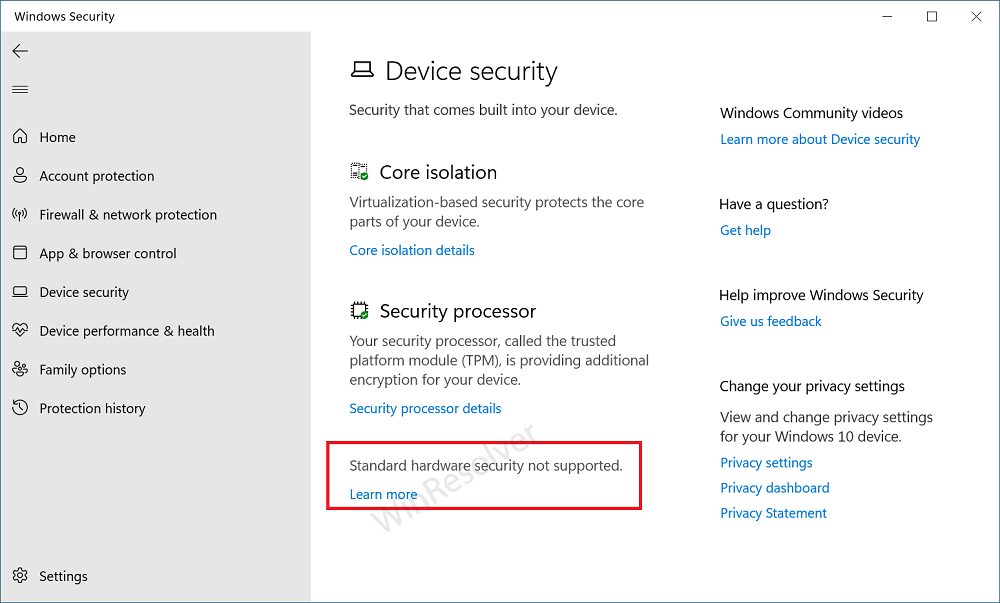 Some users reporting that on the Device Security page they're seeing a message that reads "Standard hardware security not supported". They are unsure about what causes this message to appears. If you made up to this blog post, then you're seeing this message too, right? Let's dig into it.
Fix – Standard hardware security not supported in Windows 10 Security
It's very important to understand what is Standard hardware security feature and how it helps in protecting your device.
To reach the Device security page, you need to type Windows Security in the search box on the taskbar, when it appears in search results, click to open it. Here, select Device Security.
Here, you will find various security features which include:
Core isolation offers protection against malware and other online threats by isolating computer processes from your operating system and device.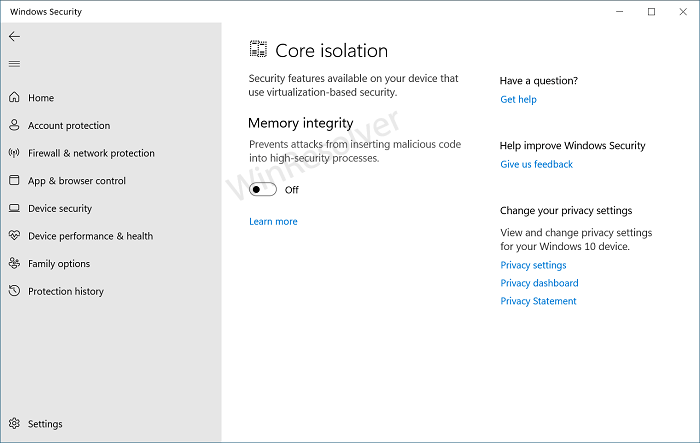 If you click on Core isolation details, you will find the Memory integrity option which you can turn ON/OFF to protect your device.
Security Processor offers additional encryption for your device with help of a Trusted platform module (TPM). You can click on the Security processor details link to find more information about the Trusted module platform of your device.
Here, you will find information about the Security processor which includes Specification and Status. Apart from that, you will find the option to troubleshoot Security Processor.
Secure boot stop a dangerous and sophisticated type of malware (a rootkit) from loading when you start your Windows 10 device. Rootkits use the same permissions as the operating system and start before it, which means they can completely hide themselves.
Rootkits are usually part of a complete malware suite that can bypass record passwords & keystrokes, local logins, capture cryptographic data, and transfer private files. You can read about Secure boot on Microsoft Support page.
Sometimes, we disable security boot on the device to run operating systems like (Windows or Linux), hardware, and device graphic cards. You can learn more about how to enable or disable secure boot.
So these are three Standard hardware security features that play a vital role in protecting your device from threats.
Cause
Usually, users see Standard hardware security not supported message when one of three Standard hardware security features (Core isolation, Security processor, Secure boot) are turned OFF.
On the other hand, Device Security display "Your device meets the requirements for standard hardware security" if all Standard hardware security features are ON.
In case, you're running Windows 10 20H2 or above and seeing a message that reads "Your device has all Secured-core PC features enabled", then it confirms that apart from three Standard hardware security features, System Management Mode (SMM) protection is also ON.
Solution
Most of the prebuilt laptops and PC like Samsung or Dell support both standard or enhanced hardware security for all users. Users mostly see Standard hardware security not supported when they have to build a PC on their own.
Users who're seeing this message can get rid of this message from device BIOS settings.
Enable Intel's Platform Trust Technology (PTT) or Firmware Platform Trust Technology (FPTT). This enables a Security processor in Device security. Once you enable PTT or FPTT, your motherboard chipset acts as a TPM, and you can automatically enable BitLocker on your device.
Enable Secure Boot, and select Install default Secure Boot keys. For OS type, select Windows UEFI mode. This enables Secure boot in Windows Security.
Once done, press F10 key to save changes and then exit.
After doing this, all three security feature of Device Security will be turned ON and you will no longer see the message.
Note – Different device might have different ways or procedure to enable above discussed settings, so you can search on google about it.
Additionally, it's your choice whether you want to enable or disable the Memory integrity feature available under Core isolation in Device security. Although, some users reporting that turning on this option hamper the gaming performance, if you're facing the same, then you can turn it OFF.
That's all about this blog post. We hope your query is answer. If you need further assistance, then feel free to contact us. In case, you know additional details that need to be in this blog post, then don't hesitate to share with us.